CANDICE MADEY / NATHAN STOREY FREEMAN
INFO@STELLARPROJECTS.NYC
1 RIVINGTON STREET / NEW YORK, NY 10002
OPEN BY APPOINTMENT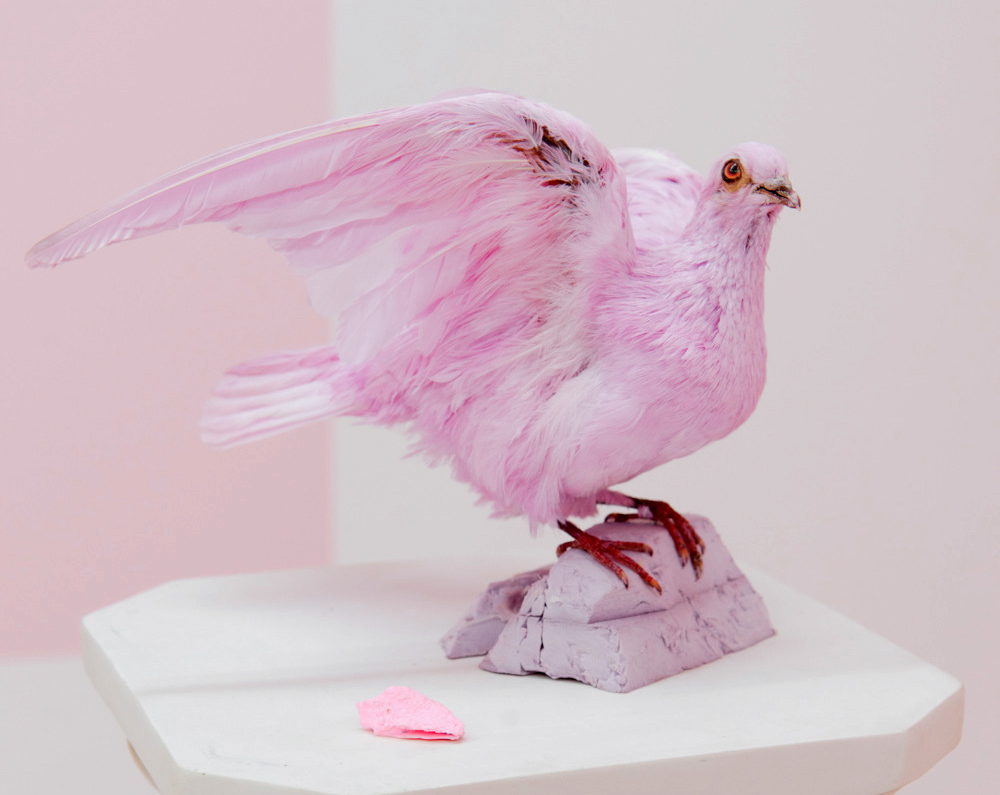 Presenting TEN AT SEVEN's inaugural exhibition GIVE ME YOUR HAND, DOVE, SO THAT I MAY CLIMB INTO YOUR NEST—Curated by Candice Madey
The exhibition includes Sofía Córdova, Edgar Heap of Birds, Pam Lins, Jake Kean Mayman and Sheila Pepe, and addresses the violent history of US policy in the Americas, affected communities and landscapes in need of healing, and the potent strength of language, ritual, and poetic action as regenerative processes, with artists.
TEN AT SEVEN is a biannual curatorial project hosted by the SJ Weiler Fund, a foundation supporting the visual and performing arts. Presenting contemporary and historic artworks addressing history, politics, and social issues by artists from culturally diverse backgrounds, the project comprises an exhibition, a publication, and gatherings hosted by collector Susan Weiler in her West Village home.
For Summer and Fall of 2019, Stellar Projects invites SUBLIMATION to 1 Rivington.
SUBLIMATION is an artist's project organized by Brooklyn based artist Nathan Storey Freeman that supports interdisciplinary & experimental installations by emerging & established artists.
In ancient alchemy, SUBLIMATION symbolized the exchange of "bodies" and "spirits" similar to laboratory phase transitions between solids and gases. Alchemists used language more evocative of the mystical implications of SUBLIMATION, manifesting the process's dual nature in the spiritualization of the body and the corporeal formation of the spirit. SUBLIMATION fluctuates in and around the intersection of the chemical and the mystic.
For more information and a schedule of events visit: www.sublimationnyc.com
Presenting JAKE KEAN MAYMAN /
Existing Structures
Stellar Projects is thrilled to present a new body of paintings by LA-based artist Jake Kean Mayman, in his first solo exhibition in New York.
Mayman's new body of work is a response to the recent trade and immigration policies established by the US government. Through meticulously rendered oil paintings, Mayman's subject matter references a history of U.S. interference in Central American nations. Mayman considers the support of violent regime change, sanctions and economic coercion; provoking today's destabilized economies and the displacement of civilian populations.
On view at 1 Rivington:
Through December 15, Fridays and Saturday 12-6 and by appointment
NY MAGAZINE / VULTURE.COM
ARTNET
With THEODORA ALLEN, JULIA BLAND, JAMIE ISREALOW, ANNE LINDBERG, KATE NEWBY, JENNY PERLIN, NORI PAO, CARRIE SCHNEIDER and LETHA WILSON.

Stellar Projects is pleased to co-present Still Life with September in Hudson, New York. Here, Still Life refers to the transcendentalist notion that we must look for a long time before we see, and that slowness is essential to science, philosophy, poetry, and by extension, a deeper understanding our world.
SEPTEMBER
449 Warren Street #3, Hudson, NY
September 8 - October 28, 2018
Presenting PACIFICO SILANO's After Silence—Organized by Nathan Storey Freeman
In July, we welcome Pacifico Silano and After Silence, a new series of photographs exploring the physical and emotional voids felt as a result of the AIDS crisis.
Summer 2018 Party:
Thursday, June 28, 6 to 8, 6 to 8pm
*Installation on view June 28 - July 27
(Thursdays & Fridays, 12 to 6pm)
Presenting RIN JOHNSON and SER SERPAS's
Or else, the women play the game—
Organized by Nathan Storey Freeman
In June, Rin Johnson and Ser Serpas present a reading and performance inside of a castle of their own making.
Reading and performance: Friday, June 22, 7:30PM
*Installation on view June 22 - 24 (12 to 6pm)
Presenting NORI PAO's Dark side down
Stellar Projects presents works from two series by Nori Pao, Lithium Grayscale, and Day Drawings. Pao's work pushes the material bounds of ceramics, examining broad themes of time, memory, identity, reality, order, and chaos — through a markedly personal lens.
Spring 2018 Cocktail Party:
Friday, May 4, 6 to 8pm
*Installation on view May 2 - 12 (Wed-Sat, 12 to 6pm)
Presenting JULES GIMBRONE's Surface (Oh, Owe, Ow)—Organized by Sophie Landres
Curator and art historian Sophie Landres and Stellar Projects present an installation of new sound sculptures by Jules Gimbrone. Through various ensembles of translucent, bisected, reflective, vesseled, decomposing, liquid, and layered material, the artist explores the relationship between sound and surface, finding parallels between composition and the formation of subjectivity.
Listening event with Sophie Landres and Jules Gimbrone:
Sunday, April 8, 6pm
*Installation on view April 4 - 14 (Wed-Sat, 12 to 6pm)
Presenting Sum/Body and Dictionary of the Hole with COLLEEN ASPER & MARIKA KANDELAKI
Sum/Body presents a grouping of new paintings by Colleen Asper. The paintings use the vulva as a frame for signs presented in the vagina. These mise en abymes will become stations in a performance by Hole (Colleen Asper and Marika Kandelaki) of Z for Zero and K for Keyhole from their Dictionary of the Hole.
Z for Zero and K for Keyhole performance by Hole:
Thursday, March 22, 6:30pm
*Installation on view March 21 - 31 (Wed-Sat, 12 to 6pm)
Presenting ALIX PEARLSTEIN and PEGGY FRANCK with Arcade
Stellar Projects and Arcade present new work by Alix Pearlstein and Peggy Franck. Pearlstein's Band Aid paintings developed in the early 1990's in response to the AIDS epidemic and the fallout of the 1980's economic bubble. Issues concerning identity and the body, through the use of everyday materials, are revisited in a new suite of works that confront the anxiety of this current time period. Franck is known for her spatial explorations of the intersection between photography, installation, and painting.
For Stellar Projects, she creates a new wall installation exploring layered dimensions that question and celebrate gesture, in conjunction with Arcade's solo booth presentation at The Armory Show.
Join us for a party celebrating Armory Week:
Friday, March 9, 6 to 8pm
RSVP to info@stellarprojects.nyc
*Installation on view March 7 - 17 (Wed-Sat, 12 to 6pm)